This week, to celebrate the publication of my first local history book,
Bishop's Stortford Through Time
, I am very excited to be doing tour around various blogs talking about various aspects of my book: not just the subject matter, but also about writing and researching "history".
One post a day - so 7 posts in total - spread across a wide and diverse mix of history-related blogs.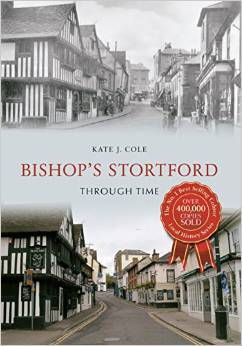 Today,
Day 1,
I will be answering questions about my book, posed to me by
Julie Goucher
. Many thanks, Julie, for your questions.
Before answering Julie's questions, firstly, I have to explain the layout and format of my book. Each page contains:-
a "then" picture - a historic image taken (mainly) from vintage postcards dating from the 1900s to the 1920s;
a "now" modern-day photograph, showing the same location, so that a comparison can be made between "then" and "now" photographs; and
a short caption about the view and giving more historical information about the building/view.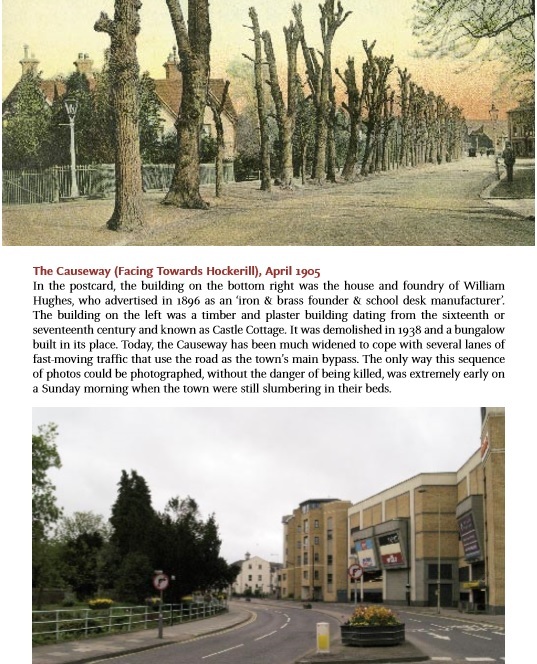 A page from my book: Bishop's Stortford Through Time
And now Julie's 5 questions...
What was your catalyst that inspired you to write your book?
I have always collected old vintage postcards - ever since I was a small child. Originally I collected postcards of cats and children's story books/nursery rhymes. But as I grew older, and more and more interested in history and genealogy, my "taste" turned to postcards relating to towns and villages I'd lived in. As I'd lived all over the south of England, before finally settling in Essex 25 years ago, I've ended up with a very strange and eclectic collection of Edwardian street views of Gloucestershire, Oxfordshire, Surrey, and Essex. My other life-long collection of postcards is that of Great War embroidered silk postcards.
So, when I started to blog Essex local history on my website,
Essex Voices Past
, it was a very natural progression to start to blog about my collection of Essex and Great War silk postcards. I never dreamed I'd turn my hobby (obsession!) into a book until a Commissioning Editor from
Amberley Publishing
stumbled across my blog and contacted me. Their "
Through Time
" series of books was 100% up my street, and after a very short negotiation period, we settled on me writing a book about the town of Bishop's Stortford in Hertfordshire.
Why a book on Bishop's Stortford? Well, despite it being in Hertfordshire (and I consider myself to be an Essex historian), it's the very next town to where I live in Essex. Despite being in two different counties, my Essex home town of Great Dunmow has very close (historic, modern and geographical) ties with the Hertfordshire town of Bishop's Stortford. Also, I had driven to Bishop's Stortford every single work day for nearly 10 years because it has a mainline station with direct trains into the heart of the City of London, where I worked. At the start my research, apart from driving through the outskirts of the town and then parking my car every single day in the town's station's car park, I knew nothing about Bishop's Stortford. Like many people who commute into London, I was a "rooster" - out of the town all day and only coming home to sleep at night.
Researching and writing a book about the Bishop's Stortford was a wonderful experience. In fact, I fell so much in love with the town - its past, its present and its future - that my research directly influenced my (grownup) middle daughter to fly the nest and move into a beautiful little flat in the town's centre. She is the new generation of modern commuters who work in London but live in this very well equipped historic beautiful 21st century town.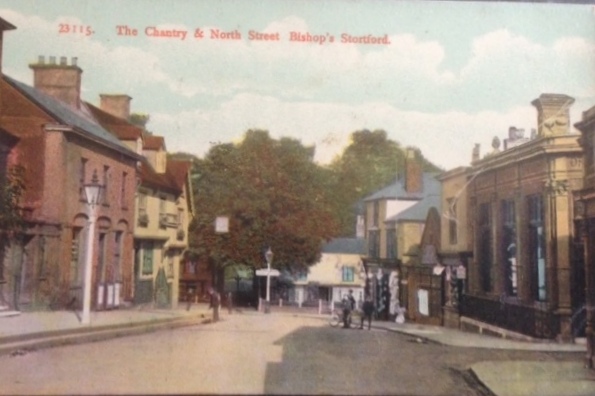 A historic area of Bishop's Stortford
What was your strategy for the development of the book?
Although I had lived nearby the town for many years, I did not "know" the town at all. Yes, I knew it to shop in, and to commute into London from. But no, I didn't know any of its history. So my first step was to see what secondary sources were out there - books written by other historians, websites run by historians, and also any interesting primary source material. Once I tracked down my sources, I hungrily devoured them to determine the town's history. I spent a good couple of months just reading and learning. I'm not very good at note taking (too many academic courses have put me off note taking), so I wrote my "notes" directly into a Microsoft Word document, which ended up being turned into my book. From this research, I got a good sense of the town and also the start of my "must haves".
I am a great believer in the premise that it is people who create history - my own take on
The Great Man
(and woman!) theory (although I believe that it is also "normal" men and women who make history too!). So my next strategy was to see what Great Men and Women this Hertfordshire town had produced. Very quickly I found that it had (at least) four famous sons who had each shaped the town (some much more than others). Because their impact had been so great on Bishop's Stortford, each one of their stories had to be woven into my book.
Once I had my Great Men (along with their wives, sons and daughters) then the very bare bones of my book had started to take shape and that dreaded blank page was no longer blank. The rest of the book just slotted into place after that.
Bishop's Stortford's Great Men were:-
Cecil Rhodes;
Sir Walter Gilbey;
Sir John Barker; and
Sir George Jackson.
(You'll have to read my book to find out why and how they and their families impacted the town's fortunes!)
After finding my "Great Men", my next strategy was to work out the chapters and each chapter's contents. This was incredibly difficult to do and it was only a few weeks before I sent the finished product to my publishers that I had the final list of chapters. My biggest problem was that I wanted to include a chapter on an area of Bishop's Stortford called "New Town" - I had a chapter ready and waiting specifically for this area. But, after months of scouring the internet, searching through countless postcard dealers' stock, and consulting with the town's museum, I could only find a handful of postcards of this area. Certainly not enough postcards to turn it into a reasonable, coherent and structured chapter. So I had to ditch the chapter, and rearrange everything else to give me a more balanced book - even with such limited postcards of this tiny area. It was a long sleepless night, shortly before my deadline, when I had to rearrange every single page into their correct (new) chapters.
In the end, I was very pleased with my final structure and my chapters. Once I had these new chapters, everything else just fell into place. But it was a few panic-struck days sorting it all out.
| | | |
| --- | --- | --- |
| | | |
| Sir John Barker | | Sir Walter Gilbey |
How did you decide what images to include / exclude?
To a certain extent, Amberley's very strict guidelines of only 96 pages made choosing which images I wanted to include or exclude easier. I was also restricted in that the book could only be about the town itself - I couldn't include any sections on the many beautiful villages which surround Bishop's Stortford. Some views of town had been photographed time and time again by Edwardian photographers a hundred years ago, and so I had several cards of (roughly) the same view and had to choose the "best" view. Other views were "one-offs" and thus much harder to source but once I had them, they HAD to be included. In the end, I ended up with about 20 images/pages too many so had to go through a very strict culling process to whittle the book back down to 96 pages. Some pages were culled because I didn't like the story that accompanied the images, whilst other pages were cut because I didn't think the image added to the overall book. Other images cut because although they were excellent images, I hadn't been able to totally identify the view, or reproduce the "now" photograph.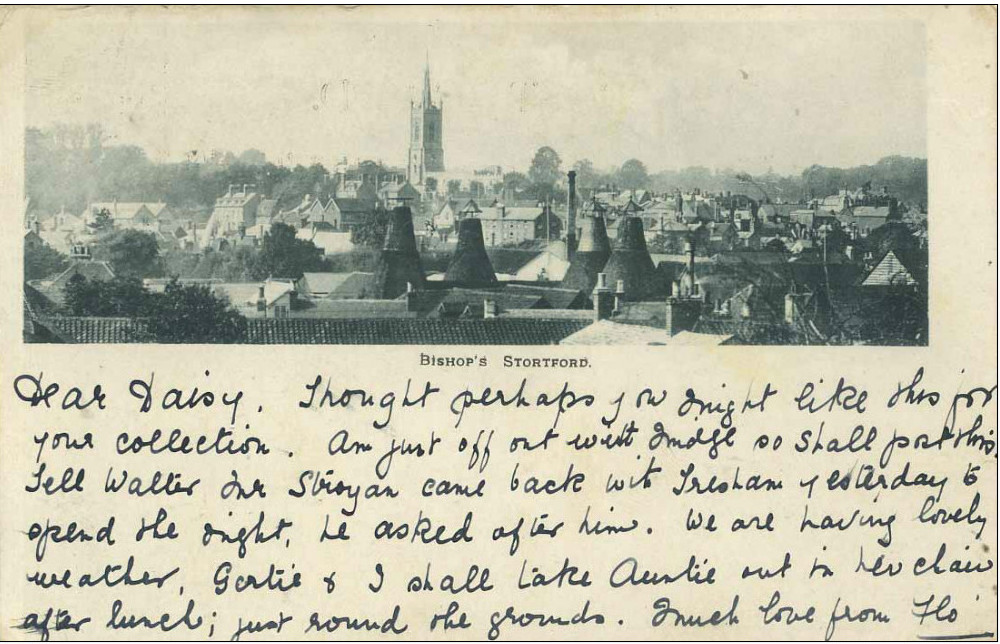 One of my favourite views of the town.
But I couldn't include it in my book as I couldn't replicate the roof-top view.
What resources did you consult to in order to write the details which accompanied each page?
I consulted just about every single local history book/website/journal article I could lay my hands on about Bishop's Stortford! My bookcase has swollen considerably with its own little section with published histories of the town. As well as books, I also consulted
Maps: I purchased a reprint of a 1896 map of Bishop's Stortford. This map, in combination with Google Maps, accompanied me on many of my walks through the town. Combining these two ancient and modern technologies showed up areas of the town which had changed over the last 100 years. Once I had identified areas of change, then I could consult my books to determine why they had changed. For example, the two maps clearly showed that the river which flowed through the town was not following the same path on the two maps. It took a little bit of investigation to discover that in the 1970s the river was diverted and now is no longer following the path it took when the 1890s map was drawn.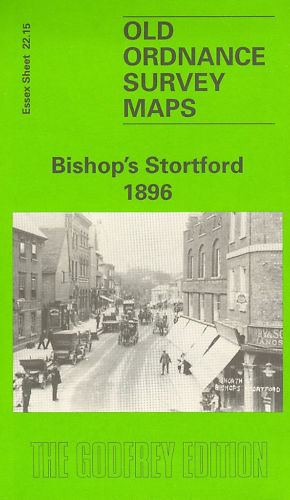 Trade Directories: On a few occasions, I needed directories to determine where various tradesmen's shops had been. The combination with these directories and old maps helped pinpoint many of the buildings and views within my postcards.
Walking the town: It sounds very obvious, but walking throughout the length and breadth of the town (and its river) many many times was one of the most important types of research I undertook. It was only by walking the town that I came to realise just how important the river and canal had been to Bishop's Stortford during its period of industrialisation from the 1760s onwards. Also, I was very surprised to see amongst the town's street furniture, many plaques documenting the river's fortunes. From when the Stort Navigation first opened in 1769 until 2014, when part of the tow-path was repaired, the town's engineers had left behind date plaques and stones commemorating various events in the river/canal's fortunes. These plaques became very important primary sources - and even a very accurate timeline - within my investigation of the town.
Newspapers: The British Newspaper Archive became a "must have" resource. For the majority of my captions, I consulted this wonderful archive to read contemporary newspaper reports about the town. Thus, for example, after I purchased a postcard showing King Edward VII being driven through the town, I was able to find newspaper articles recounting this trip, and how the town celebrated the visit of its monarch.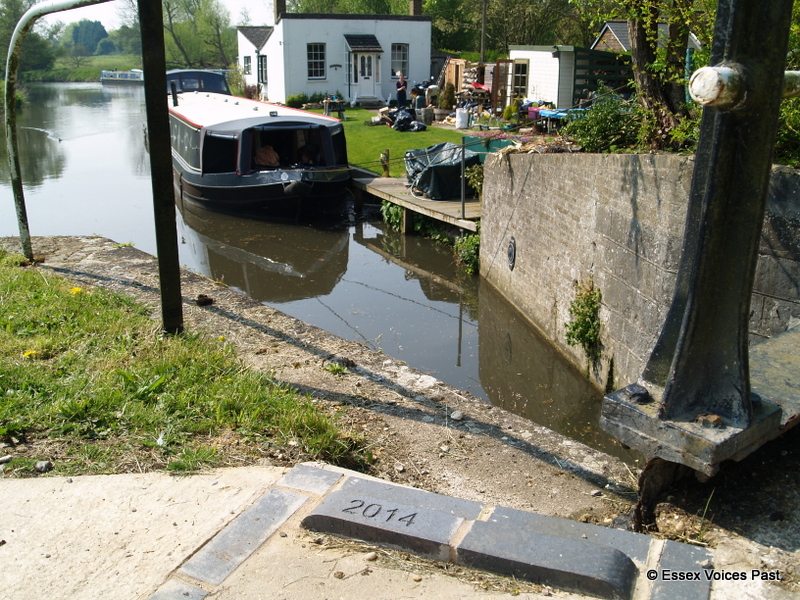 This is one of my favourite photographs in my book. It's a picture of South Mill Lock showing the 18th/19th century lock keepers cottage and a modern canal barge. The date plaque of 2014 was "left behind" after recent repairs to the tow-path.
Over two hundred years of the The Stort Navigation captured in one picture!
Was there one or two images that you simply felt that you had to include if so how did you ensure that happened?
There were three "must include" images which I had to have in my book.
The town's workhouse: In common with many other towns across England, following the Poor Law Amendment Act of 1834, Bishop's Stortford had to build a workhouse to accommodate the district's poor. Like many other workhouses, the workhouse was a classic hexagonal shape, with a formidable and severe central block, and blocks of buildings spurring off from the centre (so that families could be segregated - husbands and wives separated, and children separated from their parents). It was a very very foreboding building. I can imagine Victorian inmates being at absolute rock-bottom when they first arrived at this workhouse.

Today, like many other former workhouse and former mental institutions, the buildings which were once the workhouse have been converted into des-res houses, apartments and flats. Being of an age whereby I can remember visiting (as an adult) a close family member in a dark, severe Victorian Essex mental institution (which has now been converted into luxury flats), these new uses have always personally astounded me. I don't know whether to admire these buildings' new uses (and they do make beautiful homes), or be depressed that this is how our society once treated the weakest amongst us. I'm never sure if I want to move into one of these beautiful Victorian Gothic monstrosities, or have them razed to the ground.

Therefore, images of the town's workhouse was a "must-have" because its importance in the town's past. But, not unsurprisingly, I could not find any historic images on postcards of this building. After all, what Edwardian photographer busy chronicling their town would have set up their cameras and taken hard-to-do photographs of such an austere and deeply depressing building? So, to ensure the building was included, I had to be contented with two modern-day "now" images of the workhouse, without an accompanying "then" image.


Sir John Barker being driven to the town's station: I had a very strange experience with this postcard. I had bought the postcard from that well-known internet site. It was identified as a card from Bishop's Stortford, but with no other identification - so no road name but a contemporary message on the back stated that it was Sir John Barker. When I received the postcard in the post, and looked at it, I absolutely "knew" the view I was looking it. But how could I know it, because at that stage I didn't know Bishop's Stortford? The postcard really bugged me and even with Google Maps' help, I couldn't identify it.

It was when I was driving home from work one night that I finally identified my mystery card. As normal, I pulled out of the station car park and turned left into the one-way system ready to drive through the town. As normal, I stopped at a set of traffic lights just past the car park. Something I'd done a thousand times before. As I waited for the lights to change, I looked up. And bang! There was the exact view as on my unidentified postcard. I'd found my mystery view and I had seen it a thousand times before. In 2014, I was in the exact same location as an unknown photographer had been over a hundred years previously in 1906.

It was one of those strange moments in family/local history when I had been going about my daily business but had managed to totally connect with the past and I knew with absolute clarity that someone had been there before me. This was another card which HAD to be included in my book.



A view I've seen a thousand times before.
It didn't help my identification that today this road is on the town's one-way system,
and you can only drive away from the photographer.
Today, Sir John's car would be going in the wrong direction down a one-way street.
But once identified, I absolutely knew that I was walking in the same steps as our ancestors.



Military Funeral: In early May 2014, I purchased from a very large postcard fair a postcard of soldiers in full uniform marching through Hockerill (an area of Bishop's Stortford). At the time, the dealer was very apologetic because the card's image on the front had been damaged. The dealer had reduced the price accordingly, and wanted to double check I really wanted such a damaged card. However, the minute I clapped eyes on it, I knew that I had in my hands an extremely important postcard of Bishop's Stortford's past. A few month's previously, I'd seen a similar postcard on the Bishop's Stortford Museum's own blog but they hadn't been able to identify their card. I immediately guessed that I had just purchased the "sister" card to the Museum's card because the same woman passer-by was in both postcards.

Whereas the museum had been unable to identify their card, I was lucky with my card because it had a postmark (1915) and the message on the back identified someone in the picture as being "Percy... He has just left our Brigade". The combination of the 1915 postmark, and the fact that the message was clearly inferring that this was a recent photograph of "Percy", took me to several newspaper accounts of Bishop's Stortford's Military Funeral of the Great War. The final confirmation that I had a postcard of the military funeral was that several newspapers reported that a local contingent of the Boys' Life Brigade were present at the funeral.

You will have to read my book about this funeral to get the full fascinating details. But, in short, it involved Albert Ball, who had been stationed in Bishop's Stortford in 1915 when he had been in the Sherwood Foresters Regiment (Notts and Derby Regiment). After leaving Bishop's Stortford just weeks after the town's military funeral, Albert Ball went on to become one of the most famous airmen of the Great War and received a posthumous Victoria Cross for his valour. Whilst I don't think my postcard depicts Albert Ball, as my postcard is of another regiment present in Stortford at that time (the Bedfordshires), it is an extremely important picture of Bishop's Stortford during the Great War.

This postcard really was a "must have" image. But my story/caption for this was very long, so Amberley themselves had to do a bit of rejigging of the page so that my "then" and "now" pictures could be included on the page. But more importantly, realising its importance, my full text explaining the story of the town's military funeral was not cut nor edited.
My thanks to Julie for asking her questions
My blog tour
You can catch me on the following dates and blogs discussing "all things history" along with my recent book.
About me
I have a Masters in local and regional history from Cambridge University, a BA in history from the Open University, and an Advanced Diploma in local history from Oxford University - all studied whilst a mature student.
Bishop's Stortford Through Time
is my first book for
Amberley Publishing
. They have commissioned me to write a further 3 books:-
Sudbury, Lavenham and Long Melford Through Time (due to be published summer 2015);
Saffron Walden Through Time (due to be published summer 2015); and
Postcards from the Front: Britain 1914-1919 (due to be published summer 2016).
I live in Essex, England, and regularly write about the local history of Essex and East Anglia on my blog
Essex Voices Past
.