I can't believe a month has already gone by since my first post on this wonderful blog! I was overwhelmed with the response to my post last month on
Family History is like a box of chocolates. You never know what you're gonna get.
This blog's readers were very generous with their comments - thank you so much.
This month, I want to "Show and Tell" you some of my family history "finds" from my paternal grandmother's family, the Gurneys of South London. I don't mean records from births, marriages, and death certificates or other documents such as baptism records and censor returns. Or even transcripts of gravestones of ancestors long since passed on. Instead, I want to Show and Tell you some of my collection of artifacts from the Gurneys and show you how our ancestors lived their lives according to their times.
Some artifacts I was given after my grandmother passed away 30 years ago - when I was very new to family history - others I was given by "internet cousins" - distantly related cousins who I found on the internet on various genealogy forums. Other artifacts I found lurking in various places on the internet - including that well-known auction site. It has certainly helped that many of my paternal ancestors were publicans - and so left behind various artifacts to be either handed down through the generations; or abandoned and put up for sale on the internet... It's these treasures that bring the past to life - that my ancestors were once living, breathing people with dreams and aspirations much as my own are today.
So, my post today is a Show and Tell of various Gurney family history treasures.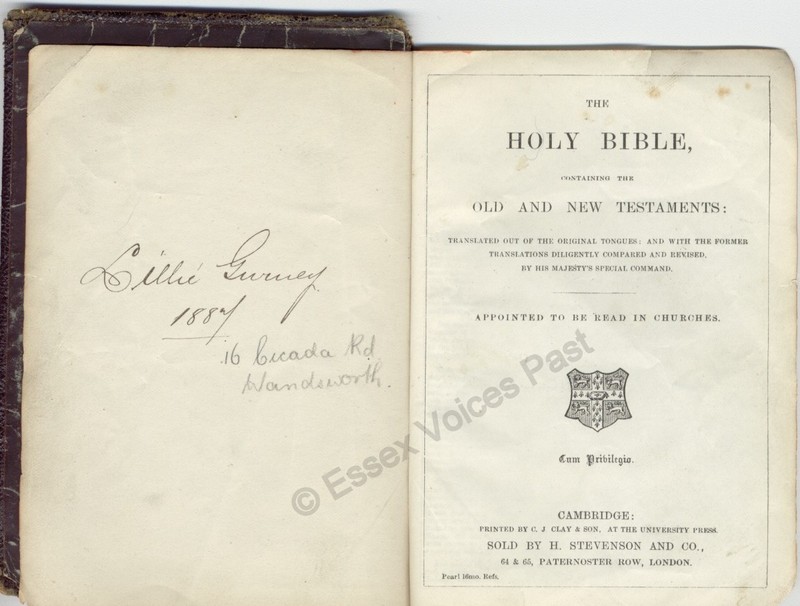 Flyleaf of Lillie/Lilly Gurney's personal bible - my great-grandmother. She was the tragic bride in my last post - Family History is like a box of chocolates. You never know what you're gonna get - she died exactly 9 months after her marriage, 7 days after giving birth to my grandmother. The pencil writing of "16 Cicada Rd, Wandsworth" was one of the childhood homes of my grandmother - this text is in my grandmother's handwriting. She must have kept and used her mother's bible as her own. The bible is now in my care.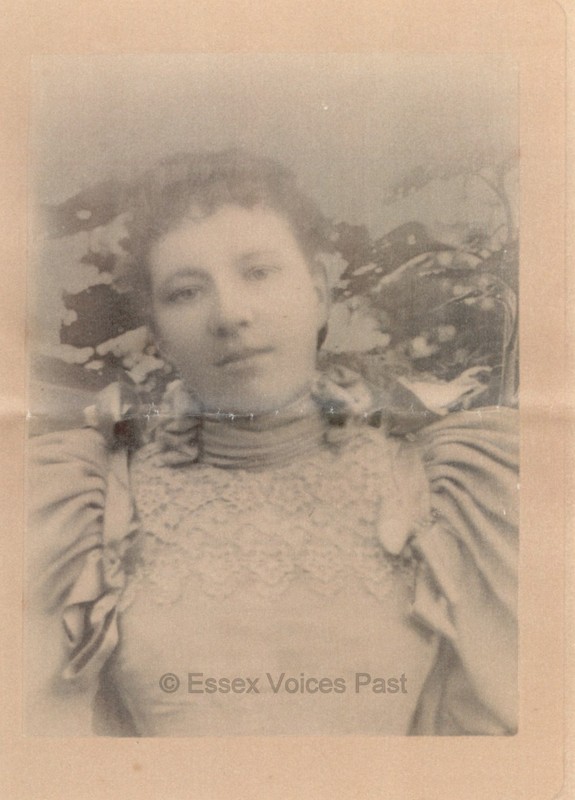 Photograph of Lilly Gurney (nee Gurney). By the size of the leg-of-mutton sleeves of her dress, this was taken sometime between 1895 and her death in 1900.


Memorial card to Lilly Gurney. This card was kept by one of Lilly's brothers, Charles Swain Gurney, and then passed down to his unmarried daughter, Muriel, (my grandmother's first cousin - neither knew about each other in my grandmother's lifetime), who gave it to another "internet cousin" (who is, I think, my 4th cousin) in 1999. My 4th cousin then sent me a digital image of it. So, this (and the other memorial cards below) came to me via the internet but is the card of a direct ancestor of mine.


Memorial card to Matilda Jane Gurney (nee Leader) - mother of Lilly. A remarkable woman, she had at least 14 children (possibly more who didn't survive infancy) and had emigrated to Australia in the 1850s where she had at least three children, before returning home to England (via Jersey) where she had the rest of her children.

Memorial card to James Swain Gurney - Lilly's father and Matilda's husband. He died at a young age of 48 - after fathering at least 14 children and having lived in Australia, Jersey and London. I have often wondered how Matilda coped after he died, but he was from such a large family, who all lived in the same area, that they probably all helped out (my previous post explained about the inter-relationship between all the Gurneys).
James Swain Gurney started adulthood as a bricklayer. In May 1855 he and his wife Matilda left Southampton on the ship "Lloyds" bound for Botany Bay, Australia, on an assisted passage, arriving August 1855. Family legend (retold by my Australian cousin, Barbara) has it that he went to Australia to help build Fort Denison in Sydney harbour - the fort was rebuilt during the Crimean War to protect Australia from Russian attack. After returning home to England a few years later (bringing back with them at least 3 children!), James went on to becoming a licensed victualler (publican) in pubs initially in Jersey, and then in Nunhead, Peckham and Camberwell. Above is an 1880 year calender for the pub, the East Dulwich Hotel, where he died a few years later. The calender shows that James Swain Gurney was brewing his own stout - "Gurney's Invalid Stout... 3s per dozen Imperial pints... Recommended by the medical profession"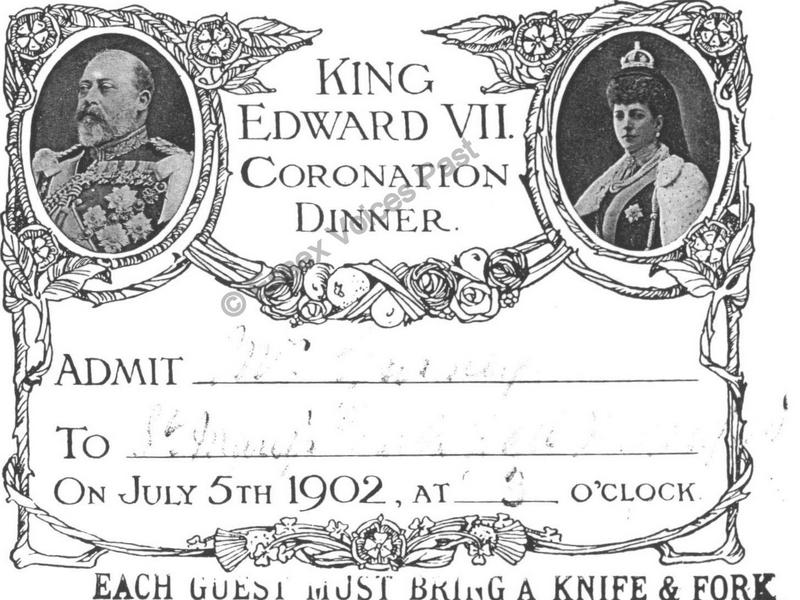 Much faded now, you can just make out the hand-writing "Mrs Gurney" and the second line of "St Mary's". This was Matilda Gurney's invitation to a local dinner held in honour of King Edward VII's coronation. Many towns and villages held these dinners for their residents. This was given to Matilda either because she was an aged widow of the parish, or it was a Masonic dinner. James Swain Gurney was a freemason - so perhaps this was a Masonic dinner and she was invited as his widow. I love the instructions to bring your own knife and fork! Not least because it implies there was to be no pudding and presumably the venue provided the plates. However, this dinner did not take actually place. Edward VII's coronation was to be held on 26 June 1902, but two days before, he succumbed to appendicitis. In an extremely risky operation (an operation which, at that time, killed the majority of its patients), Edward VII had the infected pus-filled appendix drained. Two weeks later he was pronounced to be out of danger. His re-scheduled coronation took place, finally, on 9th August 1902. So Matilda's dinner could never have taken place - on the day the dinner was scheduled, the nation was awaiting anxiously to see if their king would survive his operation. I expect that had the dinner taken place, then this invitation would have been handed into the organisers and thrown away - so hundred years later we would never have found out that people had to take their own knifes and forks to a community's coronation dinner! This document is testimony to the fact that you should never take any family history document at their face value. Sometimes there are other stories behind what you might have thought to be "fact"!
With the exception of the bible and Lilly's photo, the above images are artifacts which my grandmother's cousin had kept until her death in the early 2000s. They came to me via another Gurney cousin (my 4th cousin) who was also researching her Gurney family history. However, the images below are of objects in my personal care.
The three silver spoons shown below (and a silver meat dish not shown in the photos) came to me after my grandmother's death 30 years ago. The meat dish (which I have very vague recollections of seeing on my grandmother's sideboard in the 1960s and 1970s) and one of the spoons has the initials "JMG". It made perfect sense that this was the initials of "James and Matilda Gurney". But, until 10 years ago, this was only a "best guess" on my behalf. But yet again, my grandmother's aged cousin, Muriel, came to my rescue. She too had various items of silverware with the exact same initials engraved on them. So my meat dish and spoon were part of a very large dinner service owned by James Swain and Matilda Jane Gurney. I would imagine that on Matilda's death in 1915, my grandmother and Muriel (Matilda's granddaughters) were given their items. Therefore other members of the family would have been given the rest of the service - I expect sometime I'll discover some more items of it on the internet!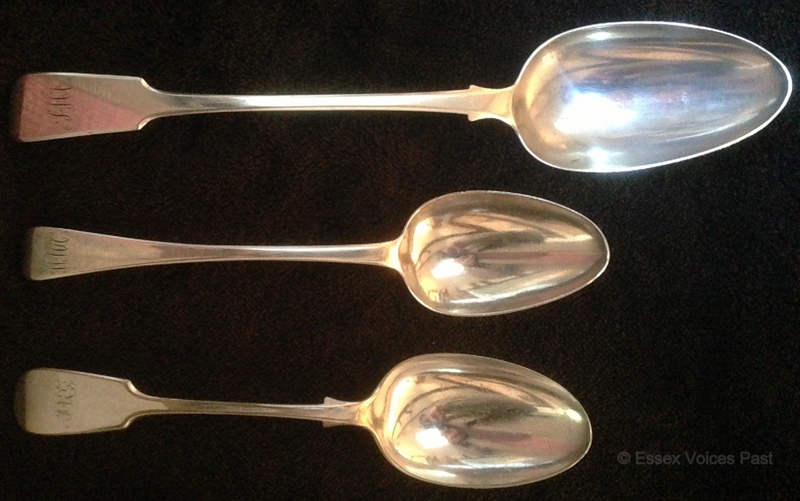 The top spoon has the initials "JMA" - it is a whooping 12 inches (one foot) long. The middle spoon has the initials "WMH" and is of a normal serving-spoon size. The bottom spoon is James and Matilda Gurney's (initials "JMG") and also of normal serving-spoon size. They are all in perfect excellent condition with few marks - my camera does not do justice to them.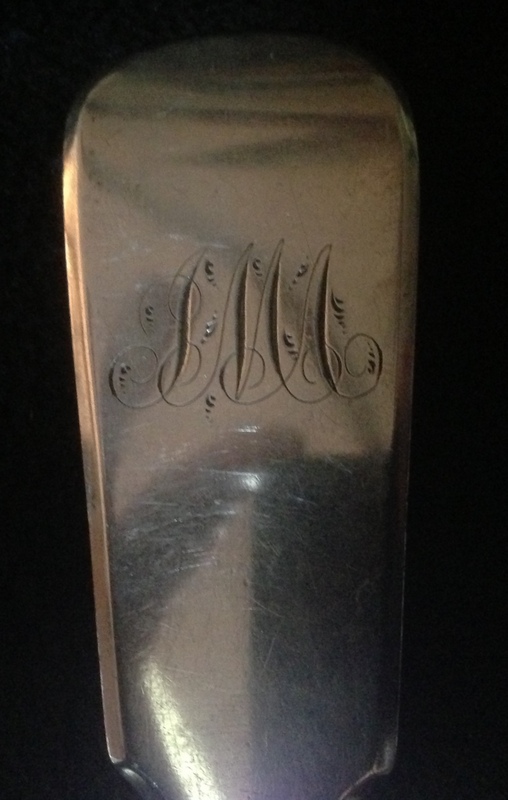 JMA: I do not have any ancestor on my paternal line with the surname starting with "A". This spoon's hallmark shows that it was made by the silver-smith RP in London in the 1820s.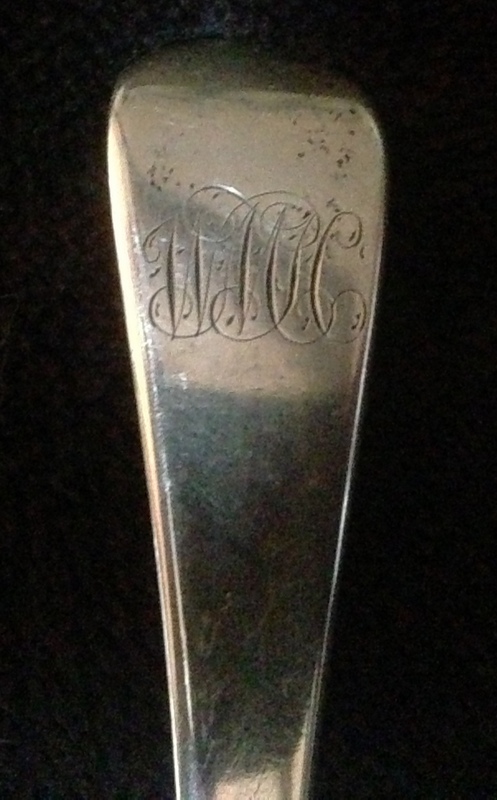 WMH: I do not have any ancestor on my paternal line with the surname starting with "H". This spoon's hallmark shows that it was made by the silver-smith GW in London
in the 1820s.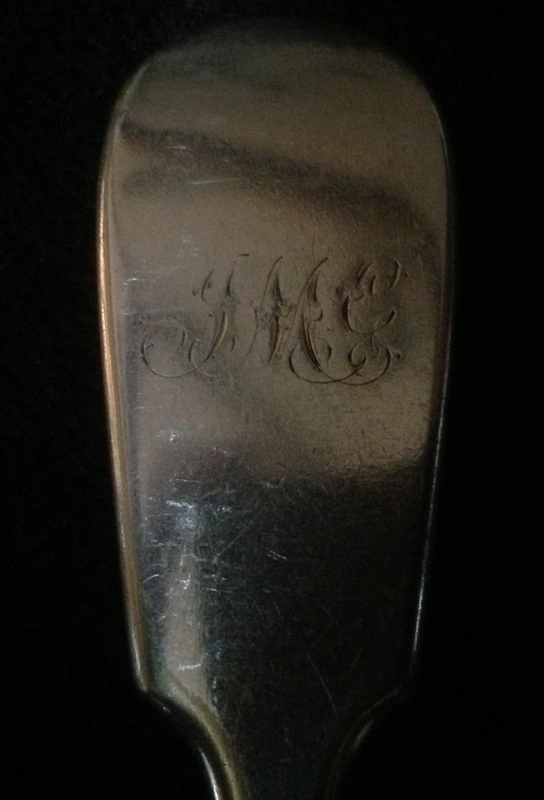 JMG: James Swain and Matilda Jane Gurney's spoon. This must have been part of a large set including meat dishes and salvers.
The first two spoons are a total mystery. They came from my grandmother's house but could have been from my grandfather (Cole's) family. To add to the mix, my grandmother was brought up by her father's childless sisters. One sister, Rose Gurney, was married to a James Sayers, so these spoons could have come from her husband's family. The initials, and the dates of the spoons, currently make no sense in
any
of my paternal family lines. No-one in my family has the correct final initial as their surname from the same time as the hallmarks - or, in fact, at
any time
. Maybe one day I'll discover who they belonged to!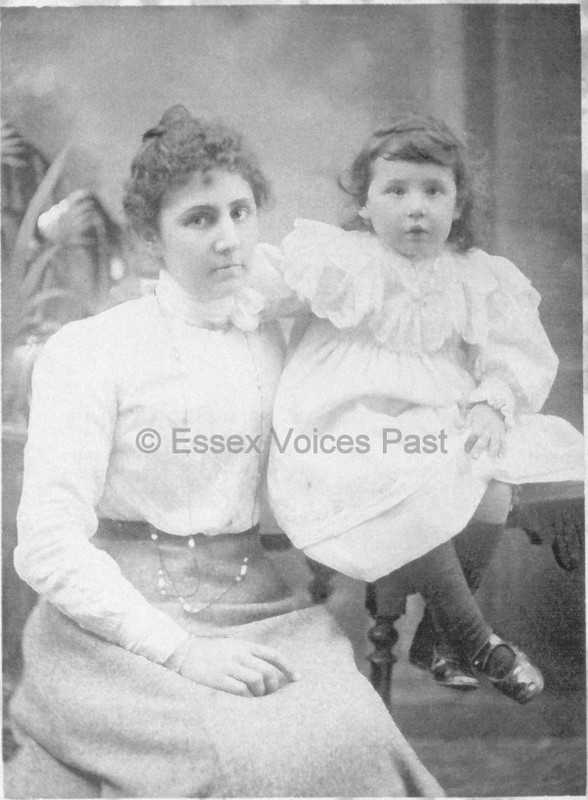 Rosina ("Rose") Sayer (nee Gurney) with my grandmother - aged between 2 and 3 - so taken in circa 1902/1903. Rose was John Gurney's sister so therefore my grandmother's aunt. One of the two aunts who brought up my grandmother - the other being Alice - who I remember when she was a very old lady in the 1970s.
My next Show and Tell is a whiskey bottle from John Gurney's pub - purchased a couple of months ago from that well known auction site. John ran various pubs in South London from time of his first marriage to Lilly Gurney in the Glengall Tavern in Peckham in 1899, until approximately the 1920s/30s.

The label reads: "J Gurney, Wine and Spirit Merchant, Star and Garter, St Anne's Hill, Wandsworth.
John Gurney standing in the doorway of the Star and Garter - approximately the 1910s. The pub was on the corner of a road "Ridgmount Road" - the childhood home of my grandfather Cole - my grandmother and grandfather being childhood sweethearts who met and played together on the streets of Wandsworth, South London.
My final Show and Tell is the image below is a happy family photo. Or is it? Does the camera always tell the truth or does the camera lie?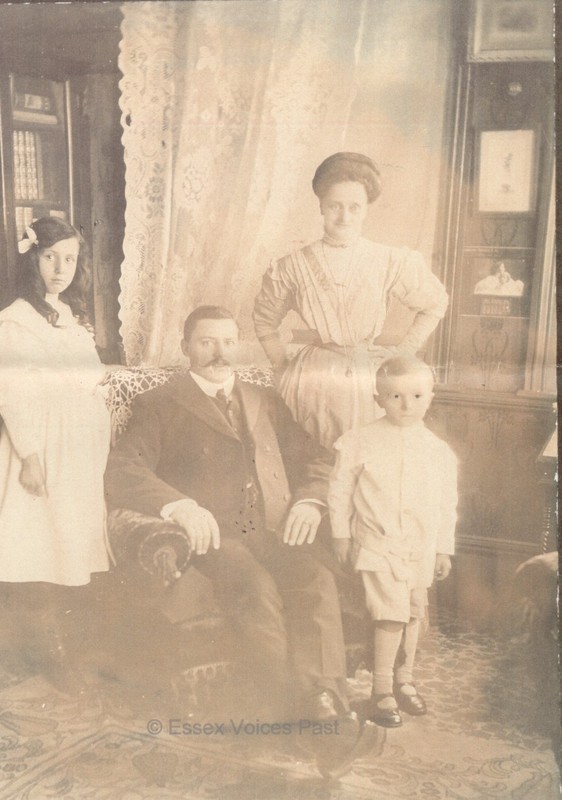 My grandmother aged about 10, with her father John ("Jack") Gurney and his second wife - Emma Nelly Gurney (nee Tipping) with their child, John Gurney. Photograph taken circa 1910, and possibly taken inside the Star and Garter.
Do you notice that little John's eyes have been scratched out? A childish prank of my grandmother's. Little John was the bane of my grandmother's childhood and teased her mercilessly. He died aged 16 in the early 1920s - I don't think my grandmother shed any tears over her brother's death. Little John's mother, Nelly, was the wicked stepmother of this story making my grandmother's life a misery - and she encouraged her son John in joining in with the mischief-making. With the release of the 1901 and the 1911 census, the records confirm family legend that it was Rose who brought up my grandmother, as my grandmother was living with her auntie and her husband, but not her father at the time of the censuses.
Look again at the picture of John and Lilly Gurney's wedding on my post
Family History is like a box of chocolates. You never know what you're gonna get.
Do you see the lady standing at the left edge of the photo with her body turned into the bride and groom. I like to think that she's glaring at Lilly - for this is a thwarted Emma Nelly Tipping - having just lost John Gurney to his cousin, Lilly Gurney. But she did end up with John, but with the burden of Lilly's unwanted motherless child.
And that's my post for this month - my Show and Tell of the Gurney family of South London. I look forward to sharing with you more of my discoveries over the coming months - see you next time on this blog on 18th March 2014. In the meantime, you can catch me on my blog
Essex Voices Past
or on twitter @EssexVoicesPast
Postscript: I remember my grandmother as a distant woman who had little interest in me and my childhood. She had her favourites - and set great store by those who were the eldest - and I was the youngest child of her youngest child - so of little consequence to her. Never purposely mean, but never kind either. I do not remember any cuddles or sitting on her knee or reading story books with her. Looking at these photos and retelling the tragedy of her birth and the hardship of her childhood makes me understand why she was thus so. Family history ain't always rosy and that box of chocolates sometimes contains a bitter-sweet memory.
©
Essex Voices Past
2014